Thomond Swim – Saturday – 20th July – Limerick City
Posted on 22, July 2013
in Category Club News, Thomond Swim
What a day – what a swim – air temperature 31 – water temperature 25 – 72 swimmers.
The Thomond Swim was, by common consent, a most enjoyable swim and with the low volume of water in the Shannon times were fast.  The river was alive with swimmers and boats, 15no. for the event. With the boardwalk along the riverbank spectators were able to follow the swim at their ease.
The race started and finished this year in St. Michael's Rowing Club. This made the course 100m longer than normal due to the fact that the normal finish area on Howley's quay was closed because the local authority are further developing the boardwalk along that area of the river bank.
Mark Dwyer of Sandycove Island and Martina Clancy of Shannon Masters won the male and female wetsuit categories respectively.
The fastest female was Carol Cashell from Dolphin, who by all accounts had a slight altercation (!) with Ned Dennison, last year's winner, coming around the last buoy. Her time of 26:44 was very fast one for the event.
Fastest male home was Stephen Rooney from Ennis SC in a time of 25:42. Considering that the course was over 100m longer than normal these were very fast swims.
The female event was won by Lily O'Brien of  Corrib in a time of 39.41. Finishing second on the day was Janice Clancy of Dublin Swimming Club in a time of 42.15 with Trisha O'Sullivan of Corrib third in a time of 42.26
The Thomond Cup was won by Adam Lynch of Phoenix in a time of 40.01 with Liam Smyth, 42:59, and his father Joe, 43:12, both Corrib members, second and third respectively. There will be some ball hopping in the Smyth household after that result.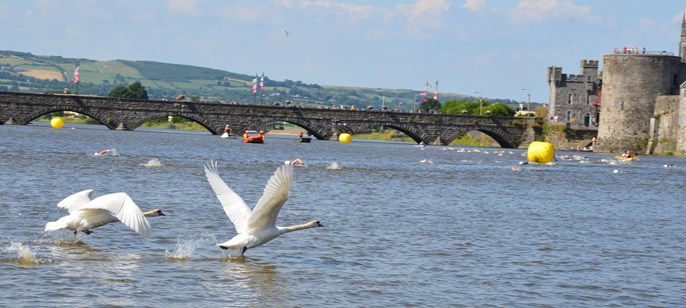 The prizes were presented by Kathleen Leddin, the Mayor of Limerick and Mary Phelan, president of Swim Ireland in the magnificent Shannon Boat clubhouse. Both also officiated at the race start.
The talk after the event was about the handicapping, what's new! People were pointing out that none of the prizes on offer were won by Limerick swimmers! There is always next year.
Mairead Coughlan, Limerick Masters chairperson, thanked all of the swimmers and those that helped on the day for making the event such a success and looked forward to welcoming everyone back in 2014. She also acknowledged the backup from Limerick Marine Search and Rescue and the Civil Defence and the support from Limerick City Council and Sisk, without whose assistance the event could not take place.
Full results are posted on:
http://sportstiming.racetecresults.com/results.aspx?CId=74&RId=10177