Mallow the real story
Posted on 18, December 2013
in Category Club News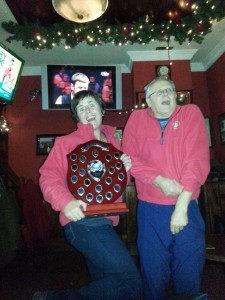 Ho ho ho and so to Mallow we went, all packed in, 18 of us in a 12 seater single decker and oh what fun it was on the Bus na nÓg to Mallow town!
First of all fair play to the seriously sound Corkonians who rolled out the red carpet to welcome us to their town. The gala was great not to mention the amazing grub. The brownies, scones, flapjacks, cup cakes, tarts, Mallow marsh mallows and hang sangwiges were to die for and the wonderful warmth of the Mallow Masters made this a damn fine gala!
Under Coach John we all swam our hearts out. The spectacular ladies relay team performed really well, particularly the 200 medley relay team in a seriously competitive race, ahem! Well done ladies! And as for the mens' relay teams, they were the usual disciplined military super organised operation….NOT! No instead our menfolk upheld the Limerick Master tradition of the pre relay race ritual whereby they all ran round chanting stuff like "What team am I on?", "Where's the pool?" and "Are flippers allowed John?". Not surprisingly the natives did not know what to make of this strange behaviour. Good job we had Coach John to sort the mess out!
All in all we had a great day out and there were lots of medals, PBs and records and to top it all we won the overall gala. Not surprisingly on the bus home the atmosphere was positively festive with our jingle bells, clinking medals and a trophy. Us "Prancers" and "Dancers" were in full flight and the Christmas craic was 90 as we "singsonged" all the way back to Limerick Citaay. Breda Mac was a great laugh altogether, especially when she sang! And Colm O Shea, we discovered, has serious potential to be good craic, if you fill him with drink! Edel blew us away with her vocals. She is a deeply religious gospel singer and she brought the bus down with carols such as "Oh Lord won't you buy me a Mercedes Benz?" and "Plastic Jesus". Dermot Hanrahan sang many deep, meaningful and melancholic songs. However by the time he sang "Alone Again", we had to stop him as the busman was getting weepy and could not see the road. Amazingly Mike Mac actually let his hair down, twas great to see him coming out of his shell, finally and poor old Paddy Healy bocht sang the most beautiful trad songs, go hiontach stuff altogether Paddy!. We reckon Paddy Healy really is Peig Sayers trapped in Paddy Healy's body. Go bhoire Dia orainn!
We were back in Limerick in no time all hoarse as hell but happy to be home. Amazingly none of us aged dramatically when we got off the Bus na nOg, if anything we were all twenty years younger and were full of the joys ….must be the magic of Christmas!
Merry Christmas me merry Masters!