Better late than never Irish Open 2018
Posted on 18, April 2018
in Category Club News, Irish Open LC Championships
What a weekend of swimming and it was certainly worth the wait. It seems the additional weeks of training with our rescheduled date helped aplenty as the records fell.
Thanks to all those who travelled to Limerick to support the Irish Open. We want to thank UL Arena for supporting the rescheduling. As ever the gala wouldn't run like clockwork without the assitance of Mary, Don & Colin who manned the desk & the parents of Limerick Swimming Club for timekeeping throughout the day. Finally to the club members who helped with the many jobs and also showed their talent in cooking & baking with the delicious food on offer.
As if we didn't do enough swimming on Friday & Saturday, a hardy bunch hit Castleconnell to clear the cobwebs on Sunday morning! Well done to those from Tuam, Claremorris & Glenalbyn who buddied with our ice dippers!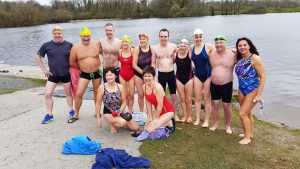 Trophy Winners:
1500mFS Kearney Cup Bryan Harris Asgard 18:54:32
50BS Jim Neylon Cup Charlotte Reid Aer Lingus 37:89
50FS Limerick Masters Cup Michael McCarthy Kilkenny Masters 24:23
Best Overseas Club: Potters Bar
Best Overseas Female Swimmer: Jackie Carribine Warrington Masters
Best Overseas Male Swimmer: Jonathan Refson Potters Bar
Best Overall Club: Kilkennny Masters
Best Female Swimmer: Julie Donnelan Tuam Masters
Best Male Swimmer: John Joe Higgins Tuam Masters
At our gala night Aisling McKeever of Swim Ireland presented the Decathlon Awards to:
Charlotte Reid Aer Lingus & Kieran Kelleher Cork Masters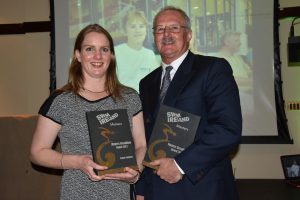 John Garrett our club photographer captured plenty of the action: https://www.dropbox.com/sh/066u08raw19qy0o/AACyvrnICoveKGyDkDhzNNSta?dl=0
We had over 50 clubs competing with almost 300 competitors. It was a day for records with 16 Individual National records broken. Here are those that we have found so far and no doubt there is a long list of provincial records.
Well done everyone & see you all back in Limerick next year minus Emma of course!!
| | | | | |
| --- | --- | --- | --- | --- |
| Age Group | Event | Name | Club | Time |
| 19-24 | 50m Free | Caitriona Finlay | Aer Lingus Swim Club | 28.44 |
| 25-29 | 50m Fly | Michael McCarthy | Kilkenny Masters | 26.63 |
| 25-29 | 50m Back | Juan Vinagre Sendino | Kilkenny Masters | 31.05 |
| 25-29 | 200m Back | Juan Vinagre Sendino | Kilkenny Masters | 2:40.88 |
| 40-44 | 200m Fly | Gabor Szabo | Guinness | 2:41.55 |
| 40-44 | 1500m Free | Brian Harris | Asgard | 18:54.32 |
| 45-49 | 100m Breast | Paul Kearney | Limerick Masters | 1:18.07 |
| 60-64 | 200m Free | Dorothy Ledwidth | Ennis Masters | 2:53.02 |
| 60-64 | 1500m Free | Dorothy Ledwidth | Ennis Masters | 23:34.65 |
| 60-64 | 50m Breast | Marie Kean | Coman's | 44.71 |
| 60-64 | 200m IM | Marie Kean | Coman's | 3:31.3 |
| 70-74 | 50m Fly | Kieran Kelleher | Sandycove Island | 32.55 |
| 70-74 | 200m IM | Kieran Kelleher | Sandycove Island | 3:03.93 |
| 70-74 | 100m Breast | Kieran Kelleher | Sandycove Island | 1:37.35 |
| 70-74 | 1500m Free | Kieran Kelleher | Sandycove Island | 25:56.5 |
| 70-74 | 100m Back | Nick Emerson | Cork Masters | 1:40.4 |
| | | | | |